Jan's is a Place to Shine
Celebrating 41 years!
Jan's School of Dance believes the gift of dance is a valuable choice and can be an important asset in all aspects of development.
Dance is an excellent exercise for the mind and body.
Dance is for Everyone!
Dance encourages large muscle movement and promotes greater joint mobility. It also improves muscle tone, spatial awareness, coordination and social interaction. Jan's offers a dance class for students of all abilities on Fridays. Cost is $36 per month plus $15 per child annual registration fee.
Complete the non-competition class registration form and come join the fun!
---
Jan's News:
Updated 6/13/22
REVUE 2022: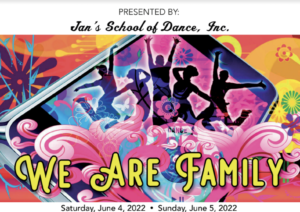 Order your show DVDs here: https://www.lifeimagellc.com/JansDance
SUMMER CLASSES:
Check out our summer class brochure:
Summer Brochure 2022
Summer Classes Registration Form 2022
Our summer classes run 6 weeks from June 27th-August 15th with no classes July 4th and the week of July 18th-21st. We offer a variety of classes from toddlers- advanced dancers.
Upcoming Dates:
May 31st- Finale Practice for Competition Dancers
June 3rd- Dress Rehearsal
June 4th & 5th- Recitals
Auditions:
Auditions will be 7/18-7/20 with Auditions on 7/20 & 7/21
Competition Schedule:
April 6-10: Hall of Fame Competition
April 21-24: Midwest Starz Competition
May 6-8: In10sity Dance Competition
May 19-22: DX Event Competition (tentative)
June 15-19: Midwest Starz Nationals
---
Contact Us
Jan Barduson Tripp
Studio: 651-438-3690
Home: 651-437-1584
Email: janpirouette@comcast.net
2610 Industrial Court
Hastings, MN 55033