Jan's is a Place to Shine
Celebrating 42 years!
Jan's School of Dance believes the gift of dance is a valuable choice and can be an important asset in all aspects of development.
Dance is an excellent exercise for the mind and body.
Dance is for Everyone!
Dance encourages large muscle movement and promotes greater joint mobility. It also improves muscle tone, spatial awareness, coordination and social interaction. Jan's offers a dance class for students of all abilities on Fridays. Cost is $39 per month plus $25 per child annual registration fee.
Complete the non-competition class registration form and come join the fun!
---
Jan's News:
Updated 5/15/23
Our end of the year Revues are coming up! Come see all the hard work our dancers have put in this year June 3rd and 4th at Hastings Middle School. JSOD 2023 Revue- Ticket Link– BUY TICKETS HERE
Now enrolling in our Summer Classes! If you want to dance with us this summer, check out our schedule and register online using the link below!
2023 JSOD Summer Class Schedule
New students, register here- https://app.jackrabbitclass.com/regv2.asp?id=546606
Are you interested in auditioning for a competition line next year? If you are new to the studio or going into 3rd grade- make sure to register for our pre-audition workshop in addition to your grade of auditions. Those of you returning to the studio, register for the grade you are going in to!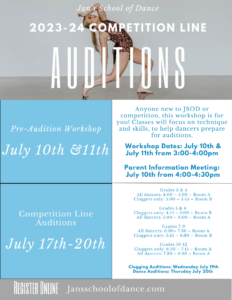 ---
Contact Us
Studio: 651-438-3690
Cell: 651-983-1790
Email: jansschoolofdancemn@gmail.com
2610 Industrial Court
Hastings, MN 55033