Jan's is a Place to Shine
Celebrating 42 years!
Jan's School of Dance believes the gift of dance is a valuable choice and can be an important asset in all aspects of development.
Dance is an excellent exercise for the mind and body.
Dance is for Everyone!
Dance encourages large muscle movement and promotes greater joint mobility. It also improves muscle tone, spatial awareness, coordination and social interaction. Jan's offers a dance class for students of all abilities on Fridays. Cost is $39 per month plus $25 per child annual registration fee.
Complete the non-competition class registration form and come join the fun!
---
Jan's News:
Updated 9/5/22
Now enrolling in our Fall Dance Classes for the 2022-2023 year!
Recreational/Non-Competition Classes
If you are interested in dancing with us please refer to the below information. You may download the registration form and mail it in with payment or drop it off at our drop box right outside the studio.
Basic Information for Non-Comp/Recreational Classes
Registration Form_NonCompetition Classes 2022
If you have a 1st or 2nd grader interested in beginning to experience competition, check out our pre-competition classes. Your dancer will perform at our Holiday show, our revue, and four dance competitions. (Extra fees are involved)
Basic Information Pre-Comp Lines 2022
Registration Form- Pre-Comp Classes
If you have gone through our audition process you may use this form to register your dancer. If you are new to the studio, feel free to reach out to Jansschoolofdancemn@gmail.com and inquire about a private audition.
Registration Form_Competition Lines 2022
Basic Information Comp Lines 2022
REVUE 2022: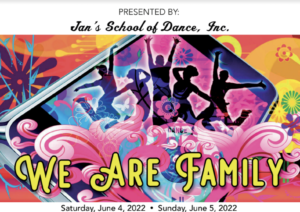 Order your show DVDs here: https://www.lifeimagellc.com/JansDance
---
Contact Us
Studio: 651-438-3690
Cell: 651-983-1790
Email: jansschoolofdancemn@gmail.com
2610 Industrial Court
Hastings, MN 55033